South Korea skipper Cho So-Hyun and her lucky number
Find out why the number 14 has such meaning for one of South Korea's most decorated women's players.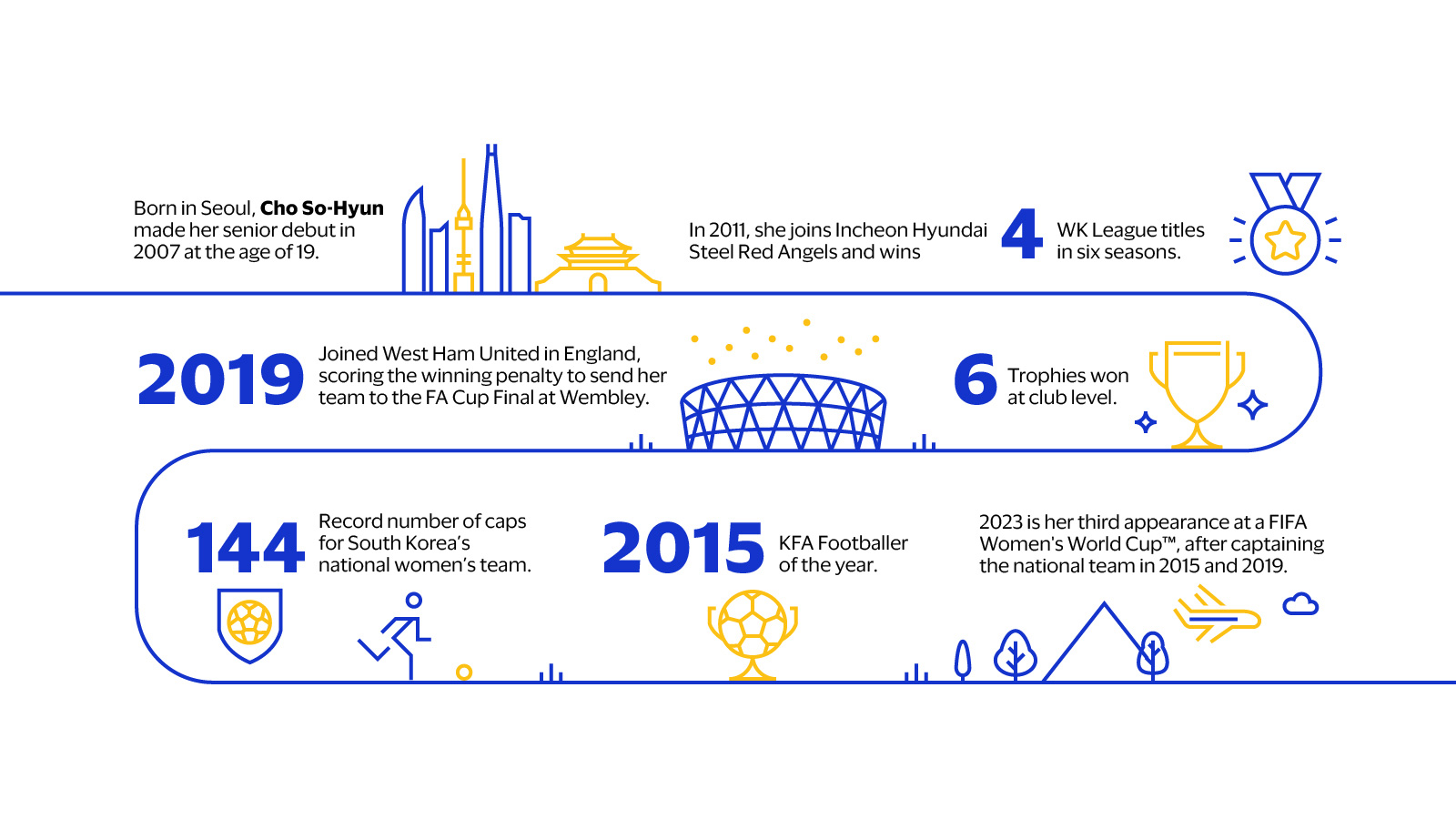 South Korea's most capped female footballer ever, Cho So-Hyun, was selected as the number one pick in the elite WK-League league draft following an impressive youth career.
After playing in her homeland for nine years Cho leapt at the chance to play abroad, with stints in Japan and Norway before joining one of England's top teams. Living in the UK, she continues to set herself ambitious goals.
Born in Seoul, Cho made her first senior appearance in 2007 at the age of 19, signing with Suwon FMC two years later.
She then joined "perennial powerhouse" Incheon Hyundai Steel Red Angels in 2011, who claimed four WK League titles in six seasons.
In 2016 she got her first taste of playing outside Korea, while on loan to Japan's INAC Kobe Leonessa. Wearing the number 16 shirt, she helped INAC Kobe finish as runners-up in the league. The team also captured their sixth Empress's Cup title, before Cho returned to the Steel Red Angels[TL1] for one last season.
Europe and the change to number 14
Signing a one-year contract with Norwegian Toppserien club Avaldsnes IL in 2018, Cho became the first South Korean woman to play in Norway. Within a year, she had become a pivotal member of the team, before announcing early in 2019 she'd signed with West Ham United.
Fulfilling a long-held ambition to play in England, she made 33 appearances for West Ham, including scoring the winning penalty in a shoot-out against Reading in the 2019 FA Cup semi-final, taking the team through to their first-ever final at Wembley.
While at West Ham, Cho changed her shirt number from 20 to 14 because the number has special meaning. As she explained in an interview, 14 was the number she wore when she first started to play football. Wearing it again at West Ham, it reminded her of the mindset she had at that very early stage in her career and brought back fond memories of winning trophies.
In 2020 she re-signed with West Ham, but in 2021 played for Tottenham Hotspur on loan. She filled out the remainder of the season with Spurs, before joining them permanently later that year. She played 14 games in all competitions for Spurs in 2021/22, and says she enjoys the competitive atmosphere and intensity of the daily training routine.
Representing her country
With more than six trophies won at the club level, she also holds the record for most caps (144) for the women's national team , Taegeuk Nangja, since her debut in 2007.
When, after a 12-year hiatus, Korea qualified for the FIFA Women's World Cup 2015™, Cho was named captain. She scored a crucial goal against Spain in the group stages that helped South Korea progress to the Round of 16 for the first time ever. That year she was named KFA (Korean Football Association) Footballer of the Year.
At the FIFA Women's World Cup 2019™, Cho again captained her national team; in 2022 she scored her 23rd international goal to help South Korea reach their first Asian Cup Final.
Now a veteran of the national team, Cho's next challenge is to find a way to win games at the FIFA Women's World Cup Australia & New Zealand 2023™ – whatever it takes.
Visa proudly supports women footballers at the FIFA Women's World Cup 2023.