Age is just a number for the Matildas' Ellie Carpenter
Inspired by a chance meeting with a Football Fern at 15, Claudia Bunge is now also a role model for her own fans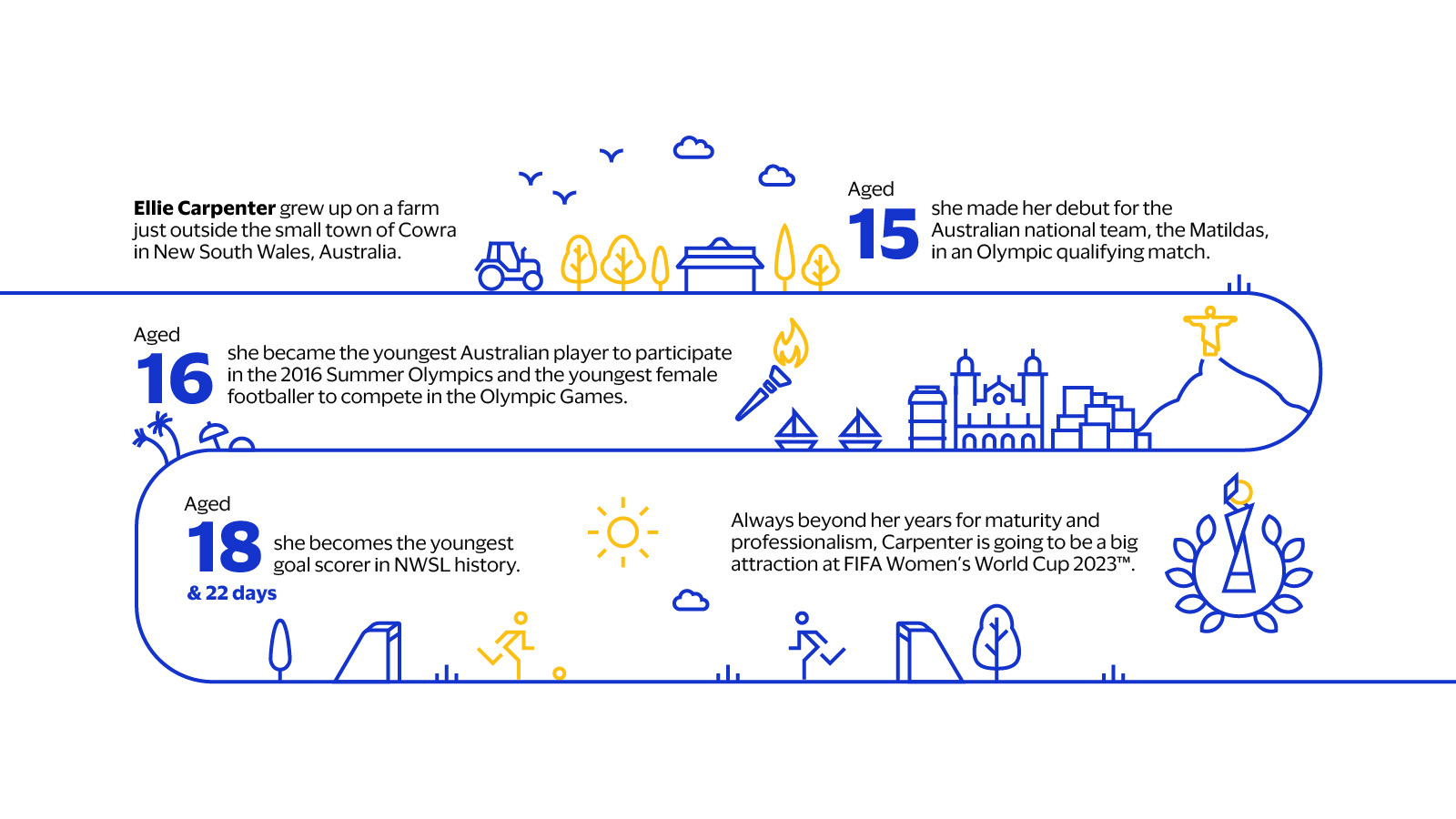 Ellie Carpenter grew up on a farm just outside the small town of Cowra in New South Wales, Australia. As she told ESPN, "Two sets of traffic lights, a couple of roundabouts and one main street: that's Cowra."
By age 12, after outgrowing the local competition, she and half of her family moved to Sydney so she could pursue her athletic ambitions. At 23 she's now signed to one of the biggest clubs in women's football, living the dream in France.
It didn't take Ellie Carpenter long to make her mark. Within three years of arriving in Sydney she had played for national youth teams Mini Matildas and Young Matildas, and the W-League's Western Sydney Wanderers, before making her debut for the Australian national team the Matildas in an Olympic qualifying match, at 15.
A career of firsts
Carpenter became the first footballer born in the 2000s to make the squad for either of Australia's senior women's national teams, also playing for the Wanderers, Canberra United, and Melbourne City clubs in the W-League.
At 16, she became the youngest Australian player to represent her country at the 2016 Rio Olympics AND the youngest female footballer to ever compete at the Olympic Games.
She took it all in stride, including her next adventure: USA. Carpenter became the youngest player in US women's club history when she made her debut with Portland Thorns in 2018. Not long after that she became the youngest goal scorer in NWSL history — 22 days after her 18th birthday.
Carpenter also represented Australia at the FIFA Women's World Cup 2019™in France where the Matildas placed second in their group, ultimately eliminated by Norway.
Back in Australia, she won both the W-League Premiership and Championship with Melbourne City in 2020.
The French dream
That same year, in a sensational move, Carpenter signed with the one of the biggest team in Women's Football - Olympique Lyonnais Féminin – while she was still signed to Portland.
With a record six Union of European Football Associations (UEFA) Women's Champions League titles, Lyonnaise was the world-class team Carpenter had aspired to join since she was a child. She aimed to push herself competing against the best in the world, and learn more about the technical side of the game.
To top off a stellar year, Carpenter and the Matildas finished in fourth place at the Tokyo 2020 Olympic Games, the highest ever finish by the Matildas.
However, disaster struck in Feb 2022 during the Champions League final. Carpenter ruptured her ACL early in the 3-1 win over FC Barcelona. She spent eight months in rehabilitation, using the time to take a proper break from the game, which in hindsight, she sorely needed. She returned to the game feeling stronger and refreshed.
Knowing it was a World Cup year was a big motivation for Carpenter to regain her form.
The benefit of having 2 PE teachers for parents
Carpenter now calls Lyon home. It is more than 16,000 kilometres from Cowra, and a long way from her family.
She says her parents are her biggest supporters and that she wouldn't be where she is without the sacrifices they've made. " They'll always be there for me," she said, "I am so grateful they've done what they've done."
Always beyond her years for maturity and professionalism, Carpenter is going to be a big attraction at FIFA Women's World Cup 2023™.
Visa proudly supports women footballers at the FIFA Women's World Cup 2023.