Filipinas goalie Inna Palacios says women should "dream big"
With 50+ appearances for her national team, Inna wants football to be a symbol of hope for people in her country.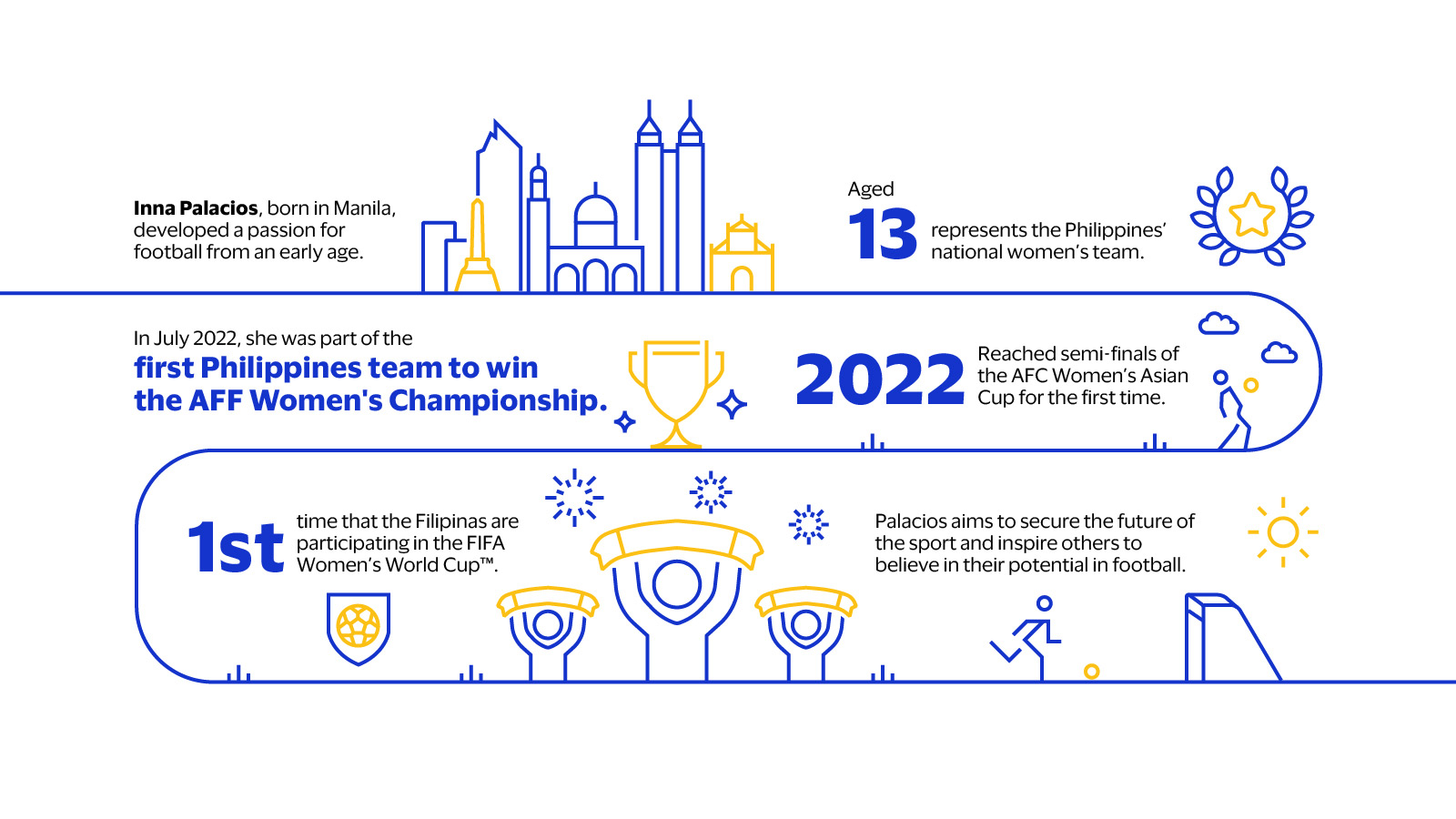 Introduced to football in grade five, Manila-born Inna Palacios was playing the sport before she even knew what the rules were – she just loved playing.
Today the 29 year old is one of only two players in national team history to represent the country for more than 50 games. More than just counting her successes, Palacios wants her journey to be an inspiration for other Filipinos, especially to the young women and men who aspire to become football players.
As part of the first Philippines team - of any gender, at any age level - to appear on the FIFA global stage, she says, "I want football to be a symbol of hope for people to rise above anything in life."
Born in Manila, Inna Palacios knew she wanted to play football from the moment she first stepped on the field.

A school football star, winning multiple 'most valuable player' (MVP) awards and tournaments with the Colegio de San Agustin-Makati football team, she first played for her country at 13 in the under-16 team.
"There's just something about it that just felt so freeing," she says. "I could express myself by being rough in the field and no one would get mad at me because it's a physical sport." On top of that, she loved the feeling of community, family, and having a team.
Starting her career as a forward, moving through winger and defender, Palacios eventually transitioned to goalie.
A consistent starter for her country
Called to be a reserve for the senior national team, she participated in the 2012 Asean Football Federation (AFF) Women's Championship and in the under-19 national team.
While she loved the sport, she also started seeing the opportunities: "free education and scholarships, meeting so many people, and going to so many places."
Recruited at De La Salle University, she played for their varsity team from 2013 to 2017, becoming the first-choice goalkeeper for the team, winning two best goalkeeper awards.
Palacios helped the Philippines qualify for the 2019 Asian Football Confederation (AFC) Cup, playing again for the national team in the 2020 Summer Olympics Asian qualifiers where the Philippines managed to progress from the first round.
In 2022, the Filipinas made it to the semi-finals of the AFC Cup for the first time ever, which qualified them for the FIFA Women's World Cup 2023™.
Palacios was also part of the first Philippines team to win the AFF Women's Championship on home soil in July 2022.
More firsts for Philippines
After 42 years in competition, the Filipinas will make history as the first Philippines national team to represent their homeland in any major FIFA football tournament. For Palacios, whose dream as an athlete has always been to represent her country on the global stage, the feeling is "indescribable".
As she says, "Getting the chance to be there and realize you're from the Philippines, a third-world country with less experience… It's the reward for every sacrifice you made."
In the lead-up to FIFA Women's World Cup 2023™, Palacios isn't just training and competing for her place on the world stage. She's also securing the future of the sport for her fellow Filipinos.
"What we've achieved right now will open doors for more opportunities and for women to believe that they can make it and succeed even more. That's why we're fighting so hard because we want people to support and invest in this sport.
"We want people to play it. We want people to believe you're going to get somewhere playing football," Palacios says.
Visa proudly supports women footballers at the FIFA Women's World Cup 2023.