Wang ShanShan, China's "Nine Goal Diva"
With 55+ goals scored, almost 150 appearances with her national team, her 3rd FIFA Women's World Cup™, the numbers speak for themselves.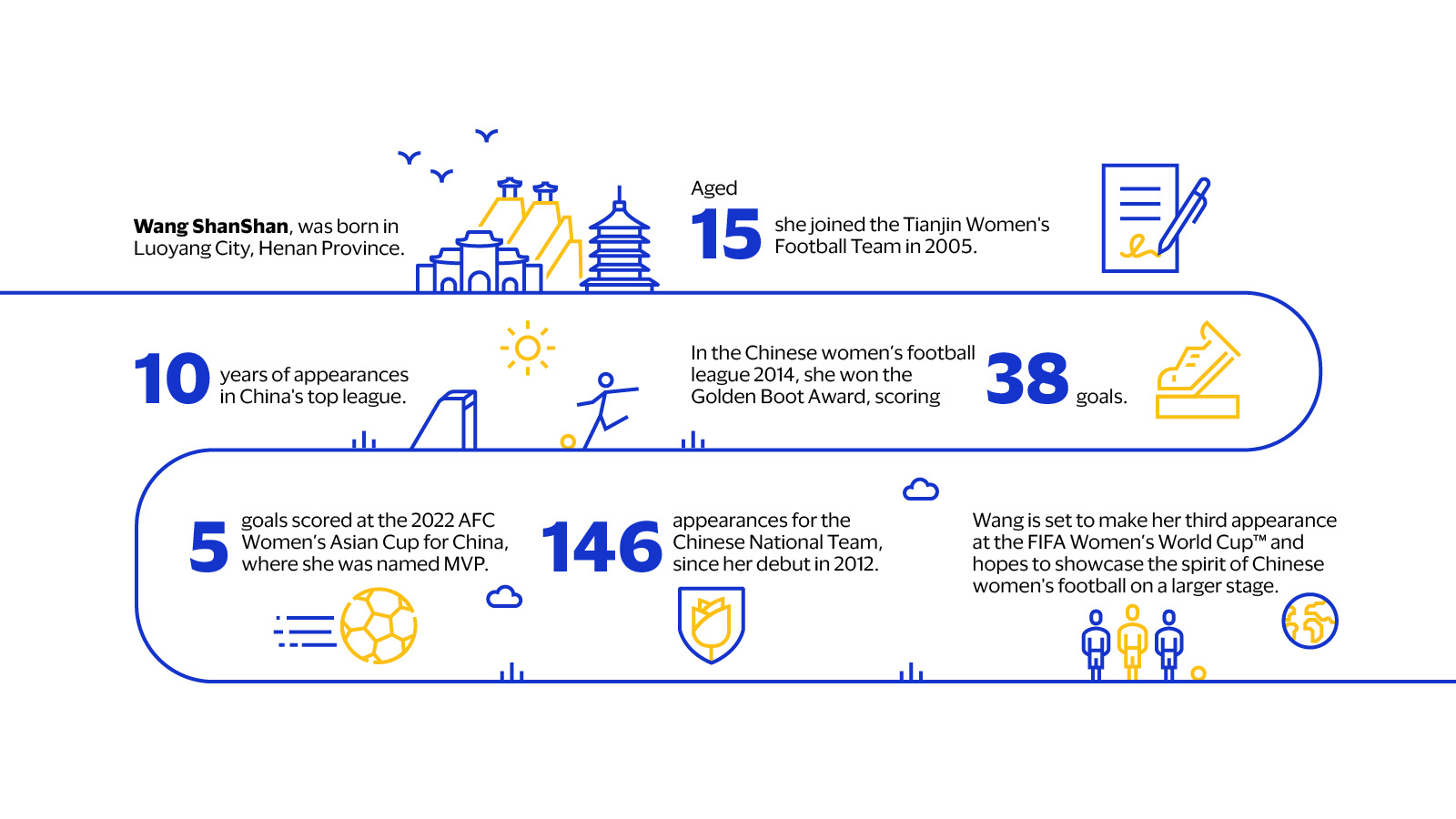 In the last decade, Wang ShanShan has proved herself as one of China's most elite scorers, with more than 55 goals for the national team. Famously, she earned the nickname 'Nine Goal Diva', when she scored nine goals in the second half of a 2018 Asian Games match, despite not coming onto the pitch until the 56th minute.
Playing striker for both club and country at 33, she goes into her third FIFA Women's World Cup™ as captain, and a role model for young female athletes in China.
Wang ShanShan has made nearly 150 total appearances for the national team and been
selected as China's top female footballer player multiple times, including recently in 2023.
She was born in Luoyang City, Henan Province, the former capital city of China.
As a child she demonstrated outstanding athletic talent, studying at Dongsheng No. 3 Primary School, a traditional volleyball school. Her PE teacher liked to warm the team up by playing football and from there, Wang ShanShan was hooked.
After elementary school she made the switch to football, at a time when the Chinese women's team was in its prime. She dreamed of one day being on the team.
In 2003, 15-year-old Wang Shanshan took up the rare opportunity to go to Beijing Shichahai Sports School, taking her one step closer to professional football. Her family spent their savings to provide her living expenses.
Chasing the dream of a football career
At 15 she signed a professional contract with the Tianjin Women's Football Team. The attention she received as a forward in the successful Tianjin team only increased after she represented China in the World University Games in 2011.
A year later, a phone call from the then coach of the China women's football team, put her in the Olympic qualifiers. Meanwhile, in the Women's Super League in 2014, Wang Shanshan scored 38 goals alone and won the league's Golden Boot.
At the FIFA Women's World Cup 2015™ in Canada she scored one goal each against New Zealand then Cameroon, before her side were edged out by USA.
At the 2022 AFC Women's Asian Cup, she helped China reclaim the title after 16 years, walking away from the tournament with five goals and the MVP award.
The road ahead
Alongside her national appearances, Wang continues to play in the Chinese Women's Super League and despite her shyness, advocates for women's rights and gender equality in sports.
Known for her strong technical ability, strength and burst of pace, she has been likened to the Netherlands' Ruud Gullit by the Chinese press. For Wang though, the top veteran Chinese women players are her inspiration.
Now she's set to be one of a few Chinese players to make their third appearance at the FIFA Women's World CupTM. As she says, her hope is for her team to be able to show the spirit of Chinese women's football on a bigger stage.
"For China, it's definitely important we take it one step at a time… But yes, I think it's definitely worth having a dream."
Visa proudly supports women footballers at the FIFA Women's World Cup 2023.