China's Wu Haiyan almost wasn't a football player
Find out how this star player went from track athlete at 11, to national captain at 2 FIFA Women's World Cups™ and 124 caps for China.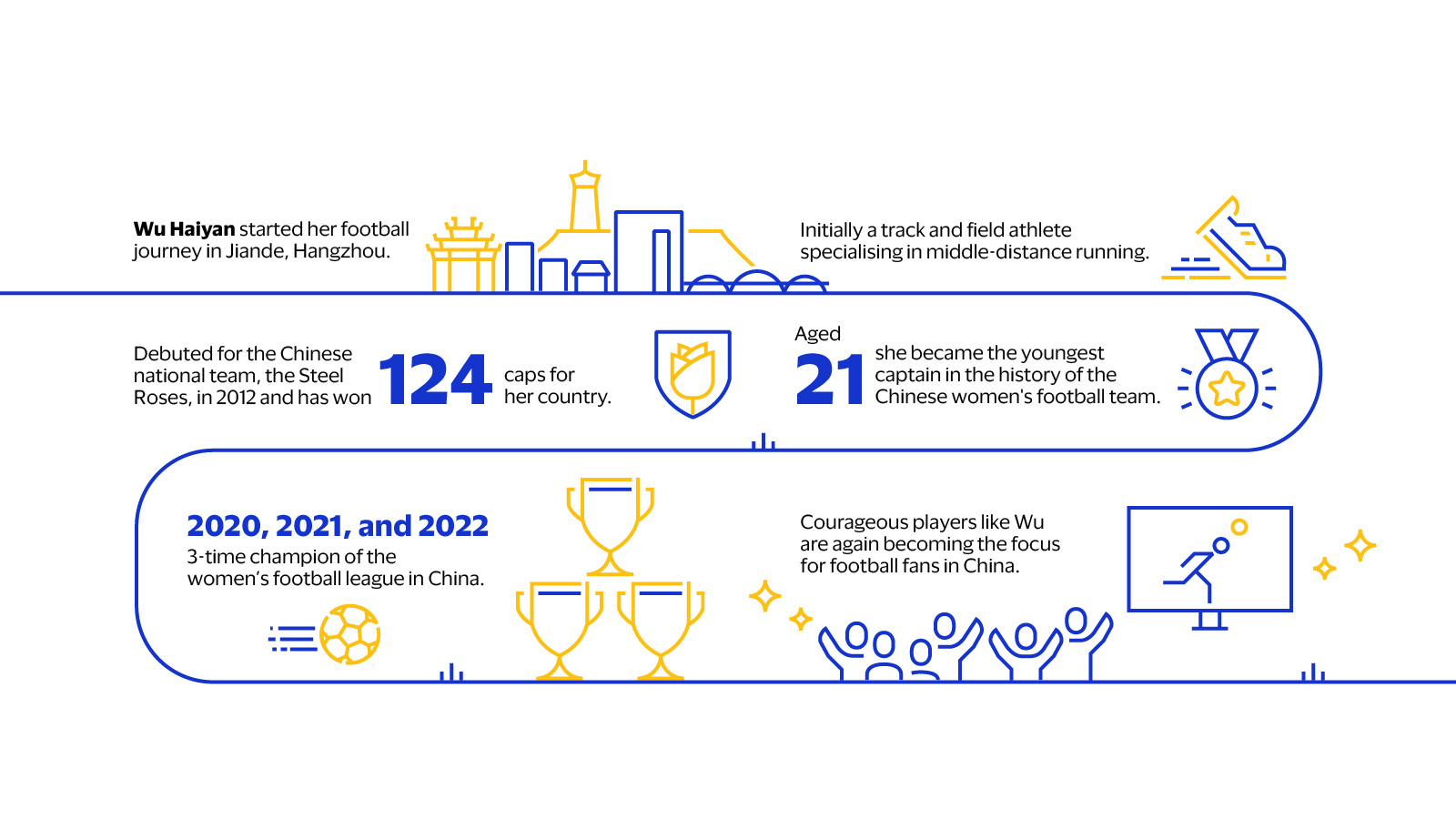 Football was never on Wu Haiyan's radar when she was a child. She certainly didn't entertain the thought of becoming the captain of the national women's football team.
Now 30 years old, Wu has played her entire career in China, totalling more than 10 years of appearances for multiple teams in China's top league. And she's captained the China team at two FIFA Women's World Cup™ tournaments.
Defender Wu Haiyan made her debut for her national team - Steel Roses - in 2012 and has since played in 124 matches for her country.
Her auspicious football journey started in the east China city of Jiande in Hangzhou, known for the beauty of its two rivers and one lake. She started out as a track and field athlete, a middle-distance runner specialising in the 800 metres and 1500 metres events. At the age of 11, she represented her school at the city sports meet.
Based on her excellent results, she was selected by a sports school in Hangzhou, which would involve her moving away from home. There she had her first contact with the sport of football, which would become her career.
A steady and distinguished career
At the age of 21, Wu appeared as the captain in the Pacific Women's Four Nations Tournament and became the youngest captain in the history of the Chinese women's football team.
Wu then had the honour of being selected to wear the captain's armband during FIFA Women's World Cup™ tournaments in 2015 and 2019. In 2015 the team reached the quarter finals but were defeated by eventual winners, USA.
Initially shy in the skipper role, she was more comfortable in 2019, enjoying the responsibility of looking out for her "family", and expressing hopes that her team would inspire young girls to want to play for their country.
In the Women's Super League, the top national competition for female football players in China, Wu has played for four teams since 2012, including her current team Wuhan Jianghan University, league champions in 2020, 2021 and 2022.
Chinese women's football in the 21st century
At the end of the 20th century, China's women's team was having a heyday. They had won silver medals at the 1996 Summer Olympics and at the FIFA Women's World Cup 1999™ - their only FIFA Women's World Cup™ final - and had seven consecutive wins in the Asian Football Federation (AFC) Women's Championship from 1984 to 1999.
In February 2022, they overcame numerous challenges to regain the AFC Women's Asian Cup title after 16 years. Women's teams – and courageous players like Wu - are again becoming the focus for football fans in China.
Visa proudly supports women footballers at the FIFA Women's World Cup 2023.